The Director of Advocacy and Policy Engagement at the Ghana Center for Democratic Development (CDD-Ghana) says that Ghana's fight against corruption has failed so far.
Dr Kojo Pumpuni Asante said corruption in Ghana is very prevalent and is pervasive such that people have accepted it as a way of life.
"People get fatigued by hearing about corruption because they feel helpless in tackling it. For me that is the most dangerous thing because it is an acceptance of a certain type of society where basically honesty and integrity are rare. If you are honest and truthful, you are actually at risk, they feel that you are a danger to those who want to be dishonest," he said.
According to Dr Asante, tackling corruption goes beyond the two major political parties in the country.
On JoyNews' Newsfile, he compared Afrobarometer researches over the years on the country's Corruption Perception Index (CPI).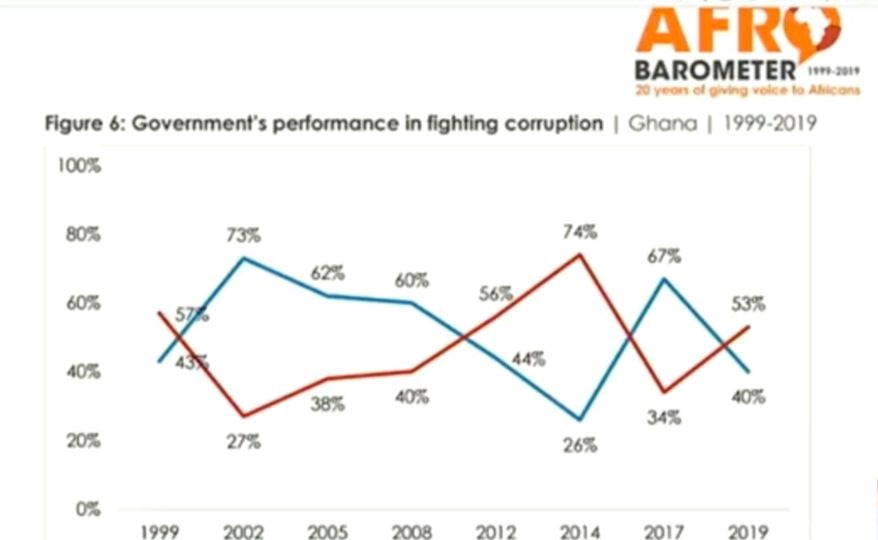 "In 2014, we were at one of the highest peaks of corruption that we had seen. 83% of those surveys said that corruption has increased. In 2017, there is a new government and the agenda of the NPP then the perception reduced to 39%.In 2019, it shoots up to 52%"
"If you look at the evaluation of government's performance over time, you will begin to see a certain trend," he told host, Samson Ayenini.
He noted that government had lost the battle against corruption adding that the country had fallen below the average in terms of its corruption fight.
"There is still an expectation that maybe the next government will deal with the challenge but how long will we play this game. At some point, the optimism might disappear.
One of the main pillars of President Nana Addo Dankwa Akufo-Addo's campaign in the 2016 elections was weeding out corruption.
He told the BBC in an interview that, he will implement institutional reforms backed by exemplary leadership of not being corruptible.
Source: Seraphine Akua Dogbey (myjoyonline.com)
https://corruptionwatchghana.org/wp-content/uploads/2020/06/85A4087-scaled.jpg
1707
2560
admin
https://corruptionwatchghana.org/wp-content/uploads/2019/10/CW-logo-100by80.png
admin
2020-08-21 15:27:03
2020-08-21 15:27:07
Ghana has failed woefully in its fight against corruption – Kojo Asante